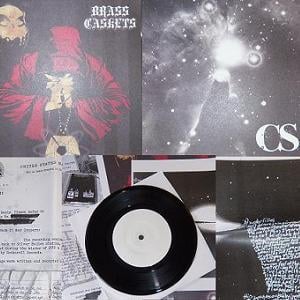 $

5.00
Cold snap/brass caskets split 7" released 2011 by Redscroll Records. 2 songs from each band.
300 pressed on black vinyl.
shipping included in the usa
from the label...
"Brass Caskets / Cold Snap – split 7" RSR-011
In a world that's beginning to look more and more like George Orwell's
"Nineteen Eighty-Four" every day, it's refreshing to hear a band that
is unhappy about the surveillance state slowly being built around us.
Brass Caskets conscious observations are a reminder that music can be
a weapon to fight the current world war machine. For Fans of Refused
and The Effort.
Cold Snap (US) plays thick, slowed down spacey noise rock meets
hardcore. For fans of Unsane, Ink & Dagger, & Iceburn."